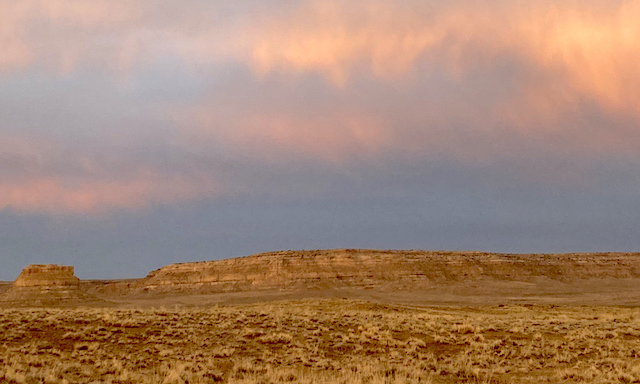 My first trip to Chaco Canyon was nine years ago during a Full Moon Eclipse. From the moment I began packing my car, there was magic upon magic upon magic. Looking back, I understand those cherished days as a rite of passage, a birthing time in a birthing place, an opening into a new cycle marked by significant events in the months that followed.
I felt the canyon calling me back, a full circle journey, to visit again during Full Moon Eclipse. Camping by myself, in past years and last week, involves facing the fears. Not of spiders or snakes or wildcats. It's the humans. The possibility of being harmed by other humans is the fear.
How can we change our ways of relating ~ human being to human being, human body to human body, human group to human group ~ so judgment, violation, desecration, and disrespect aren't shaping what we think, feel, say, and do?
How do we unravel the fears knotted up in the fibers of our bodies and beings, left behind in the wake of generations of hierarchies and harm? What else can saturate and surround our relationships?
What are my contributions to healing the ruptures? How am I weaving harmony and balance on the earth?
These questions sit in the heart of humanity's awakening. This is our moment to love ourselves and each other back into our genuine humanness.
Even a roadtrip can be a sacred healing quest. While collecting the medicine bundles who were coming with me, and wrapping the ceremonial pipe carved during my first visit to Chaco, the energy heightened and quickened. The moon and the canyon were already bringing their doctoring, touching my life, across many miles and rich passages of time.
With the spirits' guidance, I kept pouring my attention into what exists underneath, behind, and beyond the fears. It's not just empty space. There's something flourishing there.
A passion for living. Curiosity, ingenuity, peace. Senses awake and aware in the here and now, gathering and sharing information. In the wildly interactive universe in which we live, a vast field of possibilities always exists. No guarantees of particular outcomes. Still there is Love that has no bounds, woven into and between everyone and everything.
Getting to Chaco Canyon involves an hour-long drive on a bone-jostling, window-rattling dirt road. It takes commitment, and slowing down, to get to these lands. Heartfelt yearning and the spirits' callings offer a nudge to keep on going. There's an incremental arrival, coming closer bit by bit, with a spacious goodbye waiting on the other side when it's time for leaving.
I passed by the campground and visitors' center, heading toward the secluded place on the wide-open mesas where I've spent several nights before. But I didn't park in my usual spot, the car facing the rutted road, on the ready to evacuate if needed. For the first time in years, I wasn't planning to sleep in my vehicle secured behind locked doors.
I followed the two-track path through the meadow, deeper into the land, closer to the rock formation towering overhead. I sat awhile, getting oriented, listening and sensing. A gentle welcoming filled this place where Ancient Ones are watching over. It was comforting, the view of wild land in every direction as far as my eyes could see.
The stillness was palpable, the air vibrant and fresh. No hum of electricity. No cell service or wi-fi. Once the winds settled, I put up my tent. Walking full circle around my temporary home, I sprinkled tobacco infused with gratitude and prayers. My wanderings in the mesas took me further afield, soaking up the beauty, listening to the birds, admiring tiny wildflowers, following animal tracks.
Even one night among these beloved mesas offers a sweet homecoming. A remembering of what it feels like to be a human simply being human, walking about on the earth, connected, belonging, curious about who I meet. Grateful for the warmth brought by the sunrise. In love with the moon setting in the western horizon. Awed by the mystery of being here on this planet in our place among the stars.
Every shift in our inner world, each and every step we take in the outer world, have far-reaching ripple effects.